A Tribute to my Friend with Mesothelioma: Frank Curre
Posted on Friday, August 2nd, 2013 at 9:25 pm
"They fought together as brothers-in-arms, they died together, and now they sleep side by side. To them we have a solemn obligation," Admiral Chester Nimitz.
Most have never heard this quote, inscribed on a plaque at the Admiral Nimitz Museum of the Pacific War in Fredericksburg, Texas.  Few could tell you to what it refers.  Even fewer could tell you they truly understand it.  I don't mean grasp it at an intellectual level, but truly know it, to honestly feel it, to experience it down to one's soul.  But one man, 88 year old Frank Curre, lived it.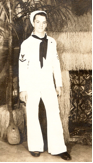 For 70 years, Frank Curre honored that solemn obligation.  Through Frank, generations of Americans have lived December 7, 1941.  At 18 years old, Frank Curre was a boson's mate on the USS Tennessee stationed at Pearl Harbor, Hawaii.  As a teenager, Frank was tested more than most of us will be in our entire lives.  Barely able to shave, he witnessed more death, experienced more suffering, and knew more tragedy than could be fairly asked of any man by his country.  Frank did it and never asked for a thank you, he just asked that we remember, and he did his best to make sure that happened.
Frank told audiences of millions about that infamous day, either in documentaries in which he appeared, like Ken Burns' "The War", or through the middle and high school classes to which he appeared every Memorial or Veteran's day.  Frank even granted my own two sons a private audience.  For an hour, in the living room of his modest home in Waco, Texas, my boys sat in rapt attention as they listened to Frank make December 7, 1941 come alive.  My 9 and 12 year old sons, whose attention spans would make a gnat's life seem an eternity, sat mesmerized for an hour, as Frank made them feel what he felt.  Frank had the remarkable ability to transfer the emotion of that day to these two boys whose only understanding of war up until that moment, and I pray for their entire lives, is what they played on their favorite video game.  For the first time it was real.  My sons knew these heroic men through Frank, they smelled what they smelled, they sweated and feared for Frank Curre himself, wondering if he would come out of it alive, even as they sat listening to him tell it.  Frank told them about war in a way they didn't get in history class at school, or in a sanitized video game that glorifies the experience as much as it desensitizes it.  My youngest son, born on December 7th, afterwards turned to me and said, "Daddy, my birthday was the first 9-11 a long time ago."  While it saddened me to think that one of the greatest days of my life, the day Nicholas Chandler came to us, would ever be associated in his mind as "the first 9-11," I thank God he met Frank Curre, one of the greatest teachers either of us will ever know.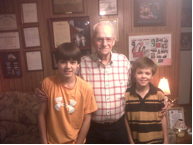 Today, we remember, Frank Curre. I was not at all surprised to receive a call from his daughter yesterday afternoon telling me that hospice now believes Mr. Curre would not live through the night.  I was not surprised because for a couple of days now Frank has been speaking to his wife, Elma Louise.  Elma was his wife of 50 years, but she passed on years ago.  I have heard the same story many times.  The families of those I represent will often tell me that their father or mother was having conversations with, or visits from, relatives lost long ago.  The visits are always comforting and bring peace, but the families usually dismiss them as delusions brought on by pain medications or advanced disease.  I don't pretend to have a greater understanding of such matters than my mortal condition allows, but I find solace in the thought that we all may just have angels waiting for us to make our transition easier.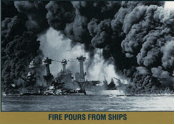 I was also not surprised to have spoken to Frank's daughter moments ago and to have learned that he did survive the night, but that he died just a short time ago, this 7th day of December, 2011.  No one who knew Frank Curre doubted for a second that he would make it to December 7th.  Either through divine intervention, or shear force of will, and what is likely a partnership of the two, Frank lived to see this infamous day again.  Frank passed at precisely 12:03 p.m., 8:03 a.m. Pearl Harbor time – exactly 70 years, and at the precise moment, the USS Tennessee took its first direct blow from a Japanese bomb.  Frank always said, "It hit our turret, my battle station, but it was a glancing blow that bounced off then blew, not like the one the Arizona next to us took or I would not be here to tell you about it."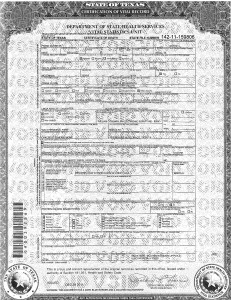 I met Mr. Curre over a year ago, he was preparing to go back to Pearl for the 69th year reunion of the attack, what would be his final return.  That he survived this long is something of a miracle itself.  You see, Frank had mesothelioma, an invariably fatal form of cancer caused by asbestos, or as much by the profit earned with it, as by the magic mineral itself.  As Frank knew of his terminal diagnosis, I like to think he had some final words with his friends, a last good-bye and an "I'll see you soon, my brothers, I hope I earned your respect these last 70 years, I hope I served you well, I did my best that we may never forget."
Mesothelioma is an unforgiving and invariably fatal form of cancer that in many cases takes its victims within months of a diagnosis.  That Mr. Curre lived to see the 70th anniversary of the attack on Pearl Harbor is as much a tribute to his indomitable spirit as it is the wonderful medical care and family support he received.
The seed of this cancer was planted 70 years ago at Pearl Harbor as Frank ran from ship to ship trying to save his buddies.  Each blow of a torpedo released the asbestos that would one day take his life and that covered the miles of steam lines so ubiquitous in naval vessels of the day.  That day, Frank survived bombs dropped on his ship, torpedo's blasted through its hulls, fire raging throughout bulkheads and on the surface of the water, but he could not survive the asbestos cancer.  Nor did it help that after the war he came home to a job that required him to work with asbestos on a daily basis.  At work he faced a silent killer, no obvious explosions, fire, or his buddies' screams to warn of the danger sellers of asbestos had not.  The imperial forces of Japan took his life that day, and the forces of greed piled on after, they just didn't know Frank was so damn stubborn that he stuck around for 70 more years to tell everyone about it.
There are days, like those that I meet men like Frank Curre, that I Love my job as an advocate for people with mesothelioma. I thank God everyday that I am blessed to know and help men like Frank and their families.  So many, who like Frank, gave so much and asked for nothing in return.  I am better for the experience of them in my life.  But, there are days that I dread, like today, as I stand a post on the grizzly watch of death that I have stood for far too many now, waiting for the call to tell me that their asbestos lawsuit is a wrongful death case now.
To have known Frank Curre was to be infected by his optimism and a new appreciation for what you have taken for granted in your life everyday until the day you met him.  Frank embodied the idea that everyday is a gift, every person is precious, and the God in all life matters. It is an understanding that only those that have stared death in the face and have beaten it back seem to truly know.  But Frank's life was lived to tell each of us that we do not need to experience what he did, to truly be alive.  We do not have to know death, to experience life.  We must not wait for tragedy, to experience Joy.  For 70 years, Frank woke up everyday appreciating that day for what it was, a God-given gift, each and every hour of it, every breath taken in it, and every precious experience granted by it.
Frank ended every presentation he gave, whether to a middle school, or a television camera, by quoting Admiral Nimitz' plaque from the museum, then he would add, "Me personally, I can think of no greater honor on this earth than to lie side by side with all those magnificent and courageous individuals that I had the God-given privilege of serving with in World War II, " and so now he will. For all those you touched in your 88 years Frank, we can think of no greater honor on this earth than to have known you.  Thank you, my friend.  May God keep you and your family in his loving embrace on this day, and all the days that follow.
Your Friend,
Troy Chandler, USMC 1985-1991
Frank Curre and Friends, Pearl Harbor 1941