For Leslie Vernon, Semper Fidelis, My Friend. Mesothelioma and the Greatest Generation
Posted on Friday, December 6th, 2013 at 8:48 pm
(This post originally appeared October 11, 2011)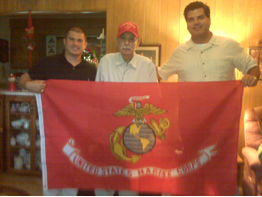 Leslie Vernon died this week-end. He was only 84. While you have never heard of Leslie Vernon, if you ever meet his wife Ivy, please say "Thank you," actually, "Thank you, and, I am sorry."
Your gratitude will be for the service and sacrifice made by Mr. Vernon, and the two generations of Vernon men who came after him. Your apology will be for other things.
There is much all of us have to be thankful for in the life of Leslie Vernon. His life was a living testament to living for a cause greater than ones' self.
You see, Leslie Vernon was a United States Marine, his son is a former Marine, and his grandson is a Marine. Mr. Vernon left his blood on the sands of Iwo Jima, his son his in the jungles of Vietnam, and his grandson has seen his share of spilled blood in the deserts and mountains of Iraq and Afghanistan.

The steel that makes the Eagle, Globe, and Anchor of the Marine emblem worn by these Men was forged in battle. They earned it with the sweat of their brow, the blood of their bodies, and the fight of their very spirit. The lessons Leslie Vernon learned on Iwo Jima were most certainly passed to his son, who, with his father, handed them down to his son. Lessons about sacrifice, and serving a cause greater than one's self. About friendship, the real reason all Marines fight, and about fidelity, the "Fidelis" in "Semper Fidelis, " a slogan to the rest of the world, but the code of a life worth living to a Marine. Great indeed is the tribute the next generation of Marine pays to the father who came before him when he too, takes the oath, dons the uniform, and earns the title — they are born a son, and become a brother.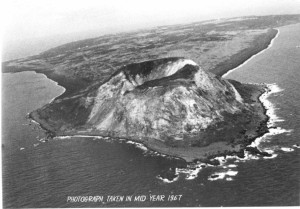 Leslie Vernon fought on Iwo Jima. A place respected by all sides of that war as one of legendary courage, where men were tested, friendships forged, and memories seared. Iwo was the place "Where uncommon valor was a common virtue." Leslie would recall that Guam was much worse, more infamous in his memory than Iwo Jima. Iwo got his blood, Guam, his soul. A fate-filled photograph would relegate Guam to the history books, and Iwo Jima to the headlines. Deserved to be sure, but not because of a photograph.
What the enemy could not do to Leslie Vernon, asbestos, and the companies that profited from it, did. He is one of 3000 men and woman who will die this year of mesothelioma, an invariably fatal cancer, caused as much by the search for profit, as by the magic mineral itself.
Today, a once great civil justice system, one of the great and lasting features of this democracy Leslie Vernon, and so many like him, fought to protect, is used by those who profited from asbestos to victimize so many once more. In Leslie Vernon's home state of Texas, politicians, insurance companies, and special interests have bought the courts and legislature. They use the First Amendment like a security blanket. On the one hand they wrap themselves in it to justify millions paid to politicians and judges under the guise of free speech, and with the other, they use it to smother the Leslie Vernon's of the world under the pretext of "tort reform."
Mr. Vernon was a Texas veteran, a life long Texas citizen, and a Texas tax-payer for 84 years, yet his state closed its court house doors to him. The special interests that have bought the likes of the Texas Supreme Court have determined that it is just time for the Greatest Generation to go away. In the last 6 years Texas has enacted, by legislation, or judicial decree, the most draconian restrictions on the exercise of individual rights in the country. Through outright corporate immunity or caps on civil damages, there is no longer a standard of care for corporate behavior as it applies to senior citizens, the young, or even the stay at home parent. Texas has determined that a person's worth is measured by the dollars they make, rather than the lives they affect, and it tells these people, "Your rights are less worthy, we will dictate your life's value, and at the price we have set, it's just a cost of doing business."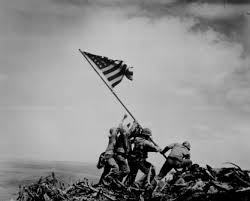 So, Mr. Vernon, I am sorry you survived an epic battle for peace and freedom only to be faced with an enemy you could not defeat. I am sorry that by the age of 19 you knew more sacrifice and sorrow than most could fathom in a lifetime, and that many years later, you would know even more. I am sorry that you earned your place among the greatest of generations by protecting all of us, only to face a civil justice system that dishonors the very security you provided by protecting those who harmed you for a profit. I am sorry that for your bride of these, oh so many years, I can provide little recovery, no sense of justice, and no security. The state you fought so hard to keep free has closed its doors to you. It never knew the motto by which you lived your life, "Semper Fidelis", "Always Faithful." I am sorry, I could not do more to stop it, and I am sorry, so many cared so little they didn't even try. Semper Fi, my friend, Semper Fi, my brother.
With deep gratitude and regrets,
our Lawyer,
Troy D. Chandler
USMC 1985-1992