Truck Accident Facts & Stats
Posted on Friday, December 8th, 2017 at 7:48 pm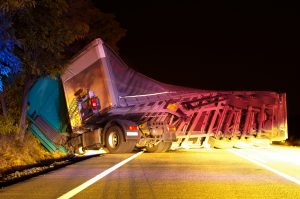 Simple physics can best describe what happens when a mass the size of an 18-wheel truck careens into a passenger vehicle, the person inside that vehicle is no match for the force of impact caused by the speed and mass (size and weight) of the object. All too often, the result of the collision leads to catastrophic injury or even a fatality.
In this blog, we'll take a look at some of the generalities, facts, and statistics surrounding large trucks, which have an average gross weight greater than 10,000 pounds, according to the National Highway Traffic Safety Administration (NHTSA).
Facts & Statistics on Trucks Accidents
The following information was gather from the Federal Motor Carrier Safety Administration's website:
As of December 2016, there have been 524,058 interstate/commercial motor vehicles recently operating in the United States:

272,928 were for-hire carriers
200,094 were private carriers
46,529 drove both for-hire and for private carriers
4,507 were neither for-hire nor private carriers

Currently, there are approximately 5.9 million commercial motor vehicle (CMV) drivers that are registered to operate in the United States.
In 2015, among the 263,610,219 total registered vehicles in the United States, 8,456,302 were single-unit trucks (straight trucks), 2,746,882 were combination trucks (tractor-trailers), and 888,907 were buses.
In 2015, large trucks traveled nearly 280 billion miles.
In 2015, approximately 4,311 large trucks and buses were involved in fatal collisions, which was an 8 percent increase from 2014.
In 2015, there was an average of 1.13 fatalities involving large trucks.
In 2015, there were approximately 11.2 fatal large truck crashes per million people in the United States, which was a 6 percent increase from 2010.
Of the roughly 415,000 police-reported truck-related crashes in 2015, there were approximately 3,598 fatal crashes and 83,000 injury crashes.
Nearly 60 percent of all truck-related fatality crashes occur on rural roads, while 25 percent of those fatalities occur on rural or interstate highways.
Most fatalities involving trucks occur at night between 6 p.m. and 6 a.m.
A record number of truck-related fatality accidents of 5,231 was set in 2005.
Truck and bus accidents have increased 26 percent since the lowest recorded accident count in 2009, which saw 3,432 deaths.
Between 2005 and 2009, there was a steep 34-percent decrease in the number of deadly truck-related crashes.
Fatalities in truck-related collisions jumped 20 percent from 2009 to 2015.
On average, from 2005 to 2015, intercity buses were involved in 12 percent of all fatal accidents, school buses and mass transit buses made up 41 percent and 33 percent, respectively.
Contact a Houston Truck Accident Attorney at Chandler McNulty LLP
If you have suffered a catastrophic truck-related accident, or lost a love one in a fatal crash, the truck accident lawyers at Chandler McNulty LLP are here to fight for your right to financial compensation to help you recover and get your life back. It's important to get this process started as soon as possible, so we can conduct our own investigation of the crash site, collect evidence (like driver logbooks, and truck safety inspection and maintenance documents) to find out if the driver or company is in violation of federal rules or regulations.
We look forward to discussing how we can best serve you. To talk about your case, call us at (713) 997-8310 or send us an email using the contact form on this page.