Fatigued Truck Driver Accident Lawyers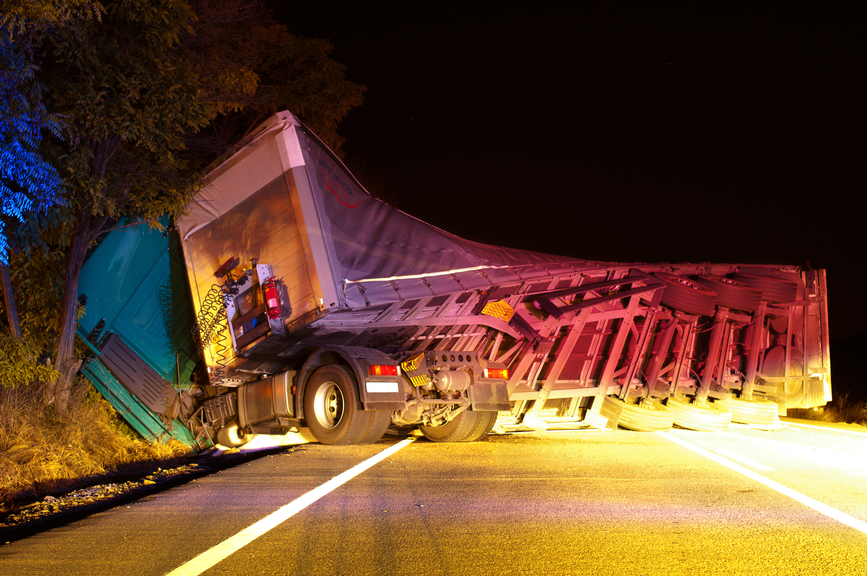 About 13 percent of truck drivers involved in wrecks "were considered to have been fatigued at the time of their crash," according to the latest data.1 This makes driver fatigue, which is 100 percent preventable, the 7th leading cause of 18-wheeler crashes in the U.S.
When truck driver fatigue causes accidents and injuries, negligent truckers (and possibly others) can be liable for compensating victims for their suffering, injuries and losses.
The truck accident attorneys at Chandler McNulty LLP are dedicated to helping crash victims fight for the compensation they deserve when trucker fatigue (or other negligence) has caused them harm. We are ready to provide you with extraordinary representation and personal service as we strive to bring your case to the best possible outcome.
We know what it means to have everything on the line, and we are dedicated to handling each case as if it were our own. For us, this is not just business – it's personal. Let us put our experience, determination and skills to work helping you recover from an 18-wheeler wreck. If you or a loved one has been hurt in a truck accident, call (713) 997-8310 or email our firm for a free consultation.
Trucker Fatigue: The Risks & Perils
Authorities define fatigue as "the result of physical or mental exertion that impairs performance."1 As a form of driver impairment, fatigue can debilitate truckers in a similar manner as alcohol, possibly causing impairments like (but not exclusive to):
Perception problems, such as not seeing or misinterpreting important cues in the traffic environment
Impaired judgment, like miscalculating the position or speed of nearby vehicles
Delayed reaction times, with even slight delays have catastrophic impacts at moderate to high speeds.
The more drowsy a driver is, the more impaired (s)he tends to be. In fact, research has indicated that driving after being awake for 18 consecutive hours is "comparable to having a blood alcohol concentration (BAC) of 0.08 percent."1 That is double the legal limit for commercial driver's license (CDL) holders.
Hours-of-Service Rules Attempt to Prevent Fatigued Truckers from Driving
Given how dangerous trucker fatigue can be, federal regulations have been established to limit the number of hours truckers can drive or be "on-duty" in a given day (or shift), as well as in a given week (or consecutive 7-day period).
Enforced by the Federal Motor Carrier Safety Administration (FMCSA), these regulations are known as hours-of-service (HOS) rules.2 Their purpose is to prevent fatigued drivers from operating trucks and threatening the safety of others on the roads.
Truckers are required to abide by these rules and maintain detailed logs to prove compliance. Motor carriers can also be legally obligated to make sure their truckers are in full compliance with HOS rules.
Signs Truck Driver Fatigue May Have Contributed to a Wreck
An in-depth investigation may be necessary to determine whether trucker fatigue was a factor in an 18-wheeler crash. However, some features of the crash could serve as signs that a fatigued (or impaired) trucker may be at fault. These can include (but may not be exclusive to) the following:3
There are no tire tread marks on the road near or at the accident site (meaning that there was likely no attempt made to forcibly step on the brakes before the collision).
There was no indication that the truck driver tried to avoid or prevent the accident.
At least one vehicle departs the road in or after the wreck.
The accident took place during late evening or early morning hours.
Records from truckers' driving logs, as well as from electronic onboard recorders (EOBRs), may shed light on whether truck driver fatigue played a role in an 18-wheeler accident.
Recovering from a Wreck Caused by a Fatigued Truck Driver
Fatigued or drowsy truckers, as well as the motor carriers that employ them, can be liable for the wrecks caused by these impaired drivers. While compensation for these claims will depend on the specifics of a given claim, commonly, these financial recoveries include damages for (and not necessarily limited to):
Medical bills
Property damage
Lost wages
Pain and suffering
Loss of consortium.
To find out your more about your potential claim and legal options if trucker fatigue (or other negligence) contributed to your wreck, contact an attorney at Chandler McNulty LLP.
When Everything Is on the Line, You Can Turn to an Experienced Truck Accident Lawyer at Chandler McNulty LLP
A truck accident lawyer at Chandler McNulty LLP is ready to advocate your rights to financial recovery and justice if you have been hurt in any type of 18-wheeler wreck. Call (713) 997-8310 or email our firm for a free consultation and important legal advice regarding your potential claim.
Nationally recognized for our diligence, relentlessness and record of success, the attorneys at Chandler McNulty LLP will not quit until you secure the justice and compensation you deserve.
From our offices in Houston, we are proud to represent accident victims and families from across the U.S.
________________________________________________________________________________
1: From the Federal Motor Carrier Safety Administration (FMCSA)
2: FMCSA's HOS rules
3: According to the National Highway Traffic Safety Administration (NHTSA)