Causes of Truck Accidents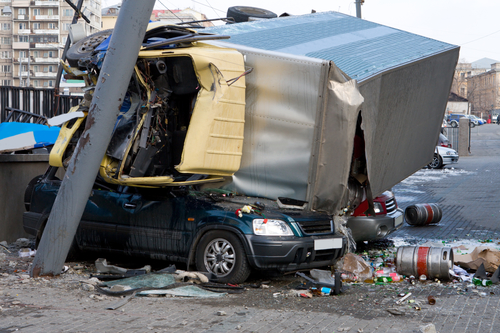 Truck accident causes can vary widely, with multiple factors sometimes contributing to a single wreck. Following a truck crash, determining the specific cause(s) will be necessary to figuring out:
All of the parties that are liable for the accident
Victims' legal options for seeking compensation for their injuries, suffering and losses.
The truck accident attorneys at Chandler McNulty LLP are dedicated to helping the injured identify all of the factors that contributed to their wreck. With a national reputation as diligent, relentless advocates, we are ready to vigorously protect your rights, help you craft a strong claim and help you secure the justice and compensation you deserve. Whether you have been harmed by a negligent motorist or a powerful corporation that has chosen profits over safety, you can count on our lawyers to effectively represent you and fight to bring your case to the best possible outcome.
Truck Accident Causes: Truck Driver Negligence
Truck driver negligence plays a role in about 1 in every 3 fatal truck wrecks, according to the latest statistics.1 This negligence can come in many forms, including (but not exclusive to):
Trucker impairment – Fatigue, alcohol and distractions are a few factors that can impair truckers' perception of their surroundings, as well as their abilities to promptly and properly respond to the ever-changing traffic conditions. Among these forms of impairment, trucker distraction is the biggest problem, with recent statistics indicating that it is the second leading driver-related factor contributing to truck wrecks.1
Failures to comply with traffic laws – Violating traffic laws commonly plays a role in truck accidents, with speeding being the number one trucker-related factor that causes accidents.1 Failing to yield the right-of-way, running red lights and aggressive driving are some other examples of truckers' traffic violations that can also increase the risk of wrecks.
Failures to abide by trucking regulations – Federal and state trucking regulations govern everything from how long truckers can be behind the wheel (in a given shift or day)2 to the requirements for securing truck loads, inspecting trucks and storing hazardous materials. When truckers fail to comply with any of these regulations, they can put everyone who shares the roads with them at risk of a crash.
These and other forms of trucker negligence tend to be more common when truck drivers lack the proper training and credentials or when trucking companies hire risky or dangerous drivers. When any form of trucker negligence contributes to a crash, the negligent driver can be liable for that accident.
Truck Accident Causes: Trucking Company Negligence
Trucking companies (or motor carriers) can also act negligently and, in doing so, contribute to 18-wheeler wrecks, injuries and deaths. Some examples of motor carrier negligence include:
Failures to properly screen drivers when hiring them – Motor carriers are legally required to perform background checks on truckers during the hiring process (to verify a trucker's credentials, review any criminal record, etc.). Overlooking this screening or failing to thoroughly screen a prospective new hire can lead motor carriers to negligently put dangerous or unqualified drivers behind the wheels of commercial trucks.
Failures to maintain trucks – Commercial trucks should regularly be inspected and maintained to ensure they are in proper working order. When motor carriers are negligent in inspecting, maintaining or repairing any truck in their fleet, truck equipment is far more likely to malfunction, increasing the risk of a wreck.
Incentivizing drivers to violate trucking regulations – The push to maximize profits can lead some motor carriers to create policies or schedules that reward truckers who violate trucking regulations. For instance, some companies may create unrealistic delivery schedules or offer a bonuses for early deliveries, effectively incentivizing drivers to violate hours-of-service (HOS) rules.2
When any form of motor carrier negligence contributes to an accident, the negligent trucking company can be held accountable for the injuries, harm and losses it has caused.
Other Causes of Truck Accidents
In addition to trucker and motor carrier negligence, other possible causes of 18-wheeler accidents can include (and are not at all limited to):
Other motorists or roadway travelers – Truckers are not the only ones on the roads who can act negligently and cause wrecks. Passenger vehicle drivers, motorcyclists, pedestrians and others can violate traffic laws and play a role in causing 18-wheeler accidents. When they do, they will be liable for the crashes they cause.
Faulty vehicle equipment – The equipment on commercial trucks and/or passenger vehicles is not always as safe, reliable and effective as the driving public expects. When equipment failures (like tire blowouts or brake failures, for instance) contribute to truck accidents, negligent manufacturers (and/or others) can be held accountable for the resulting wrecks.
Dangerous road conditions – Broken traffic signals, a lack of road signs and missing lane dividers are some examples of poor road conditions that can play a role in causing 18-wheeler accidents. In these crashes, the party responsible for maintaining safe roads (like a county, for example) may be liable.
How to Determine the Cause(s) of a Truck Accident
After a truck wreck occurs, the exact factors that caused the crash may not be clear or obvious. While a lawyer at Chandler McNulty LLP can help you figure out all of the factors that contributed to your wreck, some evidence that can be important to this determination can include:
Accident scene photos
Records from a truck's electronic onboard recording device (EOBR)
Police reports
Witness statements
Motor carriers' records.
For Effective Advocacy in Your Truck Wreck Claim, Contact an Experienced Truck Accident Lawyer at Chandler McNulty LLP
If you or a loved one has been hurt in an 18-wheeler wreck, you can turn to a truck accident lawyer at Chandler McNulty LLP for extraordinary representation, personal service and superior results.
Call (713) 997-8310 or email our firm for a free consultation and important legal advice regarding your potential claim.
At Chandler McNulty LLP, we know what it means to have everything on the line, and we are dedicated to handling each case as if it were our own. For us, this is not just business, it's personal. Let us put our experience, determination and skills to work helping you secure the financial recovery you deserve.
Though compensation may never erase a permanent injury or bring back a loved one, it can help you pick up the pieces and focus on restoring your life.
________________________________________________________________________________
1: From the Federal Motor Carrier Safety Administration (FMCSA)
2: FMCSA's HOS rules