Accidents Caused by Distracted Truckers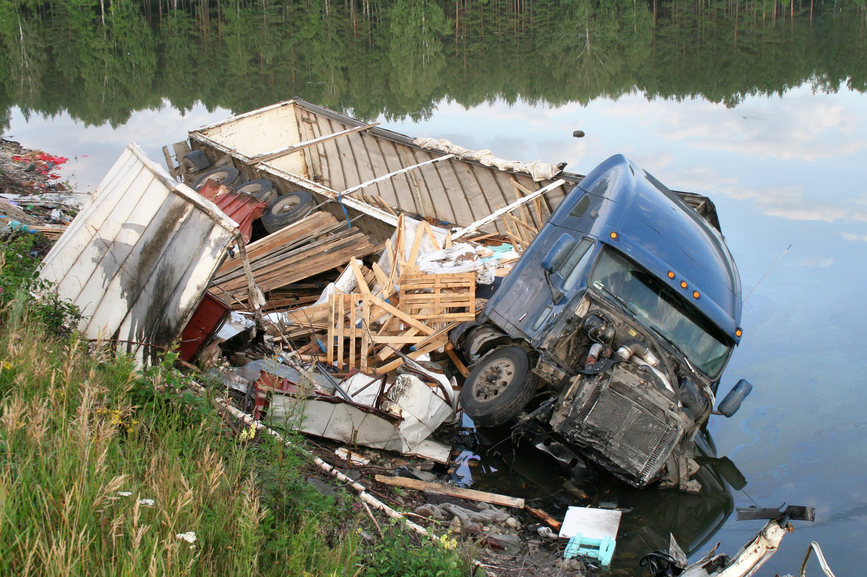 Distraction can be dangerous and deadly when it diverts truck drivers' attention from the roads and the work of driving. In fact, the latest data1 indicates that trucker distraction is:
The second most common cause of deadly truck wrecks (resulting from trucker negligence)
A factor in more than 70 percent of all wrecks involving large commercial trucks
On the rise, increasing more than 6 percent since 2013 – This makes trucker distraction more problematic than any other form of impaired driving by truckers (including drunk driving and drowsy driving).
Now consider this: Distracted driving is 100 percent preventable.
The truck accident attorneys at Chandler McNulty LLP know how dangerous distracted truckers can be – and how critical it is for the victims of distracted driving truck accidents to have skilled advocates on their side when it's time to seek compensation and justice. This is why we work relentlessly to provide truck crash victims with extraordinary representation as we fight to help them obtain the financial recoveries they deserve. Whether you have been harmed by the negligence of a truck driver or some other party, you can rely on our lawyers to vigorously represent you as we strive to secure the best possible outcome to your case.
Forms & Examples of Distracted Driving
Distractions for truckers can take various forms, including:
Manual distractions, which take truckers' hands off of steering wheels – Eating while driving or changing radio stations are some examples of manual distractions.
Visual distractions, which pull truckers' eyes away from the road – Features inside and outside of a truck's cab can be visually distracting for truckers. Billboards and in-cab computer screens are a couple of examples of visual distractions.
Cognitive distractions, which divert truckers' focus and mental attention away from the road and the ever-changing traffic conditions – Talking on the phone via a hands-free device is a form of cognitive distraction.
Use of handheld devices to text (or email) while driving combines all three forms of distraction, making it one of the most dangerous forms of distraction for truckers (and other motorists). Consequently, in May 2012, federal regulators banned all commercial truck drivers from using handheld devices when driving.2 This ban applies to making phone calls, texting and checking emails via a handheld device.
While this federal ban may be effective at limiting cellphone-related distractions for truckers, unfortunately:
Not all truck drivers comply with this ban.
There are a number of other distractions that are not prohibited and that can still present serious risks of wrecks.
The Risks & Dangers Associated with Distracted Truckers
Given that distractions can take truckers' hands, eyes and/or minds away from the task of driving, they can significantly debilitate truckers, resulting in impaired:
Perception – Of course, truck drivers will not see important driving cues if they are not surveilling the roads. However, even if they are looking at the road, distractions can cause them to experience "inattention blindness." This phenomenon can result in truckers failing to see as much as 50 percent of their surroundings even though they may be directly looking at the road.3
Judgment – Distractions can cause truck drivers to misunderstand and misinterpret essential driving cues, like traffic signals, brake lights and the speed or position of surrounding vehicles. These misjudgments can lead to improper and unsafe responses.
Responsiveness – Distractions can delay truckers' responsiveness to the constantly changing conditions around them. Additionally, even when truck drivers return to their attention to the road, it can take as much as 25 seconds for them to refocus on the task of driving, which can also contribute to slow reaction times.
Despite these dangers, too many truck drivers still make the reckless choice to focus on things other than driving when they are behind the wheel.
When Trucker Distraction Causes Wrecks: Proving Liability & Seeking Justice
After an 18-wheeler crash happens, it can be difficult to know whether a distracted truck driver may be to blame. Some evidence that can reveal whether trucker distraction was likely a factor can include:
Cellphone records, which can uncover whether calls, emails or texts were occurring immediately before or during a collision
Records from electronic onboard recorders (EOBRs), which can reveal whether a truck driver did (or did not) make any attempt to slow down or avoid an imminent collision
Accident scene photos, which may also show whether a trucker tried to avoid a crash (like via skid marks and tire patterns on the roads).
A lawyer at Chandler McNulty LLP is ready to help you determine whether trucker distraction (and/or other forms of negligence) caused your wreck. When your rights, claim, and recovery are at stake, you can count on a truck accident lawyer at Chandler McNulty LLP.
Contact Us
A truck accident lawyer at Chandler McNulty LLP can help you effectively protect and advocate your rights to financial recovery and justice if you have been hurt in any type of trucking wreck. Call (713) 997-8310 or email our firm for a free consultation and important answers about your potential claim.
At Chandler McNulty LLP, our renowned attorneys are dedicated to providing each of our clients with the representation, service and results we would expect if we were in their shoes. For us, this is not just business – it's personal. Let us use our experience, perseverance and skills to help you secure the justice and compensation you deserve.
________________________________________________________________________________
1: Including this data and this data from regulators at the Federal Motor Carrier Safety Administration (FMCSA)
2: FMCSA restrictions regarding truckers' mobile phone use (while driving)
3: According to the National Safety Council (NSC)