Truck Accidents Caused by Unsecured Loads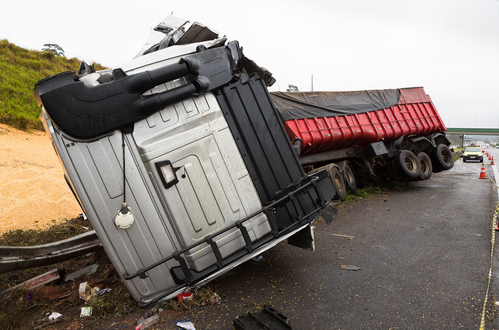 Cargo hauled by commercial trucks must be secured in a specific manner. The Federal Motor Carrier Safety Administration (FMCSA) establishes and enforces cargo securement rules1 to prevent accidents and promote safety. When truck drivers or others fail to comply with cargo securement rules, unsecured cargo can pose a serious risk of accidents and injuries to those nearby.
The truck accident lawyers at Chandler McNulty LLP know how dangerous unsecured cargo can be – and how crucial it is for accident victims to have experienced representation when it's time to prove this negligence and seek justice. That is why we are dedicated to aggressively advocating our clients' rights as we help them fight for the compensation they deserve. At Chandler McNulty LLP, we know what it means to have everything on the line, and we are fully committed to handling each case as if it were our own. For us, this is not just business, it's personal. Let us put our experience, determination and skills to work helping you recover from a truck accident. If unsecured cargo caused your wreck, call (713) 997-8310 or email Chandler McNulty LLP for a free consultation.
Cargo Securement Rules: A Brief Overview
The FMCSA's cargo securement rules define how certain types of cargo should be tied down or secured in order to prevent it from:
Shifting on or within a trailer – Shifting cargo can alter a truck's center of mass, possibly increasing the risk of rollovers and jackknife accidents.
Falling off of the truck – Cargo that falls off a truck can hit surrounding vehicles and/or increase the risk of traffic collisions.
Consequently, federal cargo securement rules detail how devices like (but not limited to) the following should be manufactured and tested (prior to use), as well as how they should be used to fix cargo in place on commercial trucks:
Steel strapping
Tie downs and wire ropes
Chains and cordage
Synthetic webbing and shoring bars
Dunnage bags (inflatable bags used to fill spaces between cargo in order to keep it immobilized).
Failing to comply with federal cargo securement rules can result in fines and other penalties.
Failure to Secure Cargo
Tragically, the cargo transported by commercial trucks is not always fully or adequately secured. Failures to secure cargo can come in various forms, including (but not limited to):
Failing to use any or sufficient tie downs and/or other securement devices
Improperly loading or balancing cargo (which can make securement devices less effective)
Using damaged, worn down or broken securement devices
Misusing securement devices (i.e., using the devices in ways they were not intended for)
Overloading trucks with cargo (which can degrade the efficacy of securement devices while increasing the risk of equipment failures, like tire blowouts).
These and other forms of negligence that can contribute to unsecured, imbalanced and/or shifting cargo are usually more likely to arise when factors like (but not exclusive to) the following are also involved:
Truck drivers (or other workers) have not been trained on how to load, balance and secure cargo.
Truck drivers fail to inspect their cargo before a haul and/or at various points during a trip (to monitor the potential for moving cargo and/or verify that it is still secure).
Motor carriers fail to provide the necessary securement devices.
Motor carriers set unrealistic delivery schedules and deadlines, which can cause truckers to cut corners in securing and/or inspecting cargo.
When Unsecured Cargo Causes 18-Wheeler Accidents
When failures to secure cargo cause accidents and injuries, the party (or parties) responsible for cargo securement can be liable for compensating victims for their suffering, injuries and losses. Some of these liable parties may include (and are not necessarily limited to):
Truck drivers
Motor carriers
Shippers
Warehouse or dock workers
Manufacturers of securement devices or trucking equipment (when faulty devices or defective equipment contribute to shifting, unbalanced or falling cargo).
When it is time to prove that cargo securement failures contributed to wrecks, helpful evidence for these claims can include (but may not be exclusive to):
Motor carriers' cargo records
Truckers' driving logs
Cargo inspection records
Carriers' bills of lading
Expert witnesses, like engineers and accident reconstructionists who can investigate or verify whether unsecured cargo was a factor.
An attorney at Chandler McNulty LLP can review the facts and details of your accident and explain the evidence (and next steps) necessary to set your claim up for a successful resolution.
Contact Chandler McNulty LLP
When You Want an Experienced, Effective Advocate in Your Corner, Contact a Truck Accident Attorney at Chandler McNulty LLP.
A truck accident attorney at Chandler McNulty LLP is ready to advocate your rights to financial recovery and justice if you have been hurt in any type of 18-wheeler wreck. Call (713) 997-8310 or email our firm for a free consultation and important legal advice regarding your potential claim.
Known for our experience, perseverance and record of success, the lawyers at Chandler McNulty LLP can provide you with the personal service and extraordinary representation necessary to:
Protect your rights and the value of your claim
Help you obtain the full recovery you deserve.
From offices in Houston, Chandler McNulty LLP is proud to represent accident victims and families from across the nation.