Violations of Federal Trucking Regulations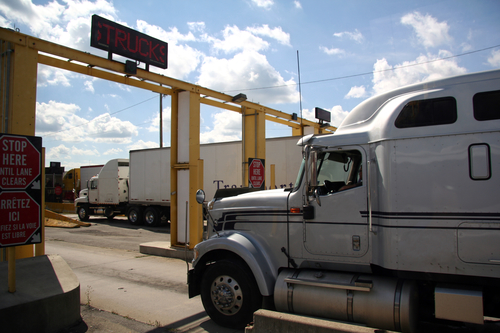 Federal trucking regulations1 have been enacted to enhance the safety of the commercial trucking industry while minimizing the risk of truck accidents, injuries and deaths. Overseen by regulators at the Federal Motor Carrier Safety Administration (FMCSA), trucking regulations encompass various aspects of commercial truck operations, setting forth requirements for truck drivers, motor carriers and the commercial trucks themselves.
While violating federal trucking regulations can lead to fines and other penalties, it can also threaten the safety of the driving public by increasing the risk of wrecks.
At Chandler McNulty LLP, our truck accident lawyers are experienced at holding negligent truckers, motor carriers and others liable for violating regulations and causing crashes. Dedicated to providing our clients with personal service and superior representation, we are ready to partner with you in the pursuit of financial recovery and justice. Our lawyers can provide you with the answers, guidance and advocacy necessary to strengthen your claim and bring it to best possible resolution. If you or a loved one have been hurt in a truck accident, call (713) 997-8310 or email Chandler McNulty LLP for a free consultation.
Common Violations of Federal Trucking Regulations
Given that FMCSA regulations cover a lot of ground, there are a number of ways these rules can be violated. Some of the most common examples of these violations include:
Trucker hiring & training violations – These can include motor carriers' failures to screen prospective drivers, verify their credentials and check their professional driving record (for a possible history of crashes or FMCSA violations). These violations can also involve failing to check truckers' medical histories (to see if they have disqualifying medical conditions) and failing to provide truck drivers with the necessary training.
Hours-of-service (HOS) violations – Truck drivers who operate commercial trucks for periods longer than the FMCSA limits (in a given shift or 7-day period) will be committing HOS violations. These violations can also include falsifying logbooks to try to fake compliance.
Drug testing violations – Failing to drug test truck drivers during the hiring process, randomly and/or after an incident (like a crash) can constitute violations of these federal regulations. Failing to record the results of these tests and/or maintain records regarding when these tests have been administered may also violate federal trucking regulations.
Truck inspection & maintenance violations – When the owners of commercial trucks are negligent in inspecting, maintaining and repairing their trucks, they will be violating federal trucking regulations. Inspections and maintenance should be done routinely so that commercial trucks (and their components) are always in safes working order.
Cargo securement violations – These violations can include failing to properly load and balance cargo. They can also involve not using enough tie downs (or other securements), overloading trucks and failing to inspect cargo before and during a haul (to ensure it is safely and properly immobilized).
Recordkeeping violations – Documentation and recordkeeping are central to proving compliance with various FMCSA trucking regulations. These recordkeeping requirements apply to truckers, motor carriers and others. Failing to keep the proper records and/or falsifying records to fake compliance are a couple of examples of recordkeeping violations.
Who Is Liable for Violations of Federal Trucking Regulations?
Various parties in the trucking industry can fail to comply with FMCSA regulations and, in doing so, be liable for the harm caused by their violations. Commonly, these liable parties can include (but may not be limited to) one or more of the following:
Truck drivers
Motor carriers
Shippers
Truck manufacturers.
When it is time to determine whether FMCSA violations may have contributed to a trucking accident, evidence like (but not exclusive to) the following can be essential:
Truckers' driving logs
Motor carriers' records
Inspection and cargo records
Bills of lading
Records from electronic onboard recorders (EOBRs)
Accident scene photos, police reports and/or witness statements.
The attorneys at Chandler McNulty LLP are skilled at collecting, analyzing and presenting this (and other) evidence to hold negligent parties accountable for their FMCSA violations and the harm they have caused.
Contact a Trucking Regulation Attorney
If you or someone you love has been hurt in any type of 18-wheeler wreck, contact an experienced truck accident attorney at Chandler McNulty LLP by calling (713) 997-8310 or emailing our firm for a free consultation.
Known for our perseverance, experience and record of success, the lawyers at Chandler McNulty LLP are ready to vigorously advocate your rights to financial recovery – and we will not quit until you secure the justice and compensation you deserve.
We know what it means to have everything on the line. That is why we are committed to limiting our caseload and handling each case as if it were our own. For us, this is not just business, it's personal. Let us put our experience and skills to work helping you recover from an 18-wheeler wreck.
________________________________________________________________________________