Trucking Taboo: Eating & Distracted Driving in the Cab
Posted on Friday, December 8th, 2017 at 7:32 pm
Any truck driver with a commercial driver's licenses (CDL) knows the rules of the road and dangers associated with risky driving behaviors. With all the training these drivers go through to get their special license, not to mention additional on-the-job training, you'd think they'd heed the warnings against making even the smallest of blunders. But, as it is, we are all human, and everyone does it: grabbing a water bottle off the ground, reaching behind us for a map, turning up the radio, and even stuffing our faces with fast food while driving down the road.
And, surprisingly, eating and sipping off a fountain drink can actually be just as dangerous, if not more so than other forms of distracted driving, according to a recent article in RoadKing.1
Reasons for Complacency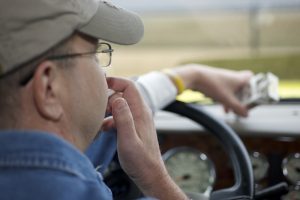 Although there's no specific scientific study being singled out in the Road King article, we respect their opinion and want to share their most compelling reasons why truck drivers still eat and drink in their cabs while driving:
Slamming some fast food on the fly helps them make up lost time.
Eating on the road assists these workers with logging up a few more miles per day.
Truckers who eat and drink on the job have a false sense of security.
There's the 'everyone else does it, why not me'
A lot of us think we are still watching what we are doing while eating and driving, but a lot of unexpected things happen when you are eating and drinking in the cab that cause us to miss a turn or even cause us to crash.
How Dangerous is Distracted Driving?
Distracted driving involves activity that diverts your attention away from safely driving down the road to doing other tasks, including changing the dials on your radio, talking on your phone, texting someone, or even checking or adjusting a GPS or navigation system. Now, let's look at some of the statistics that point out how dangerous this distracted driving behavior can be:
Every day in the U.S., approximately 9 people die and more than 1,000 are injured in collisions that are reported to involve a distracted driver, according to the Centers for Disease Control and Prevention (CDC).
3,477 people died and 391,000 were injured in 2015, according to the National Highway Traffic Safety Administration (NHTSA).
Eating, drinking, and driving increases the chances of a truck accident by 80 percent, according to the NHTSA.
Taking your eyes off the road for just 4 seconds, while going 55 m.p.h., you'll have traveled approximately 323 feet down the road.
Contact a Truck Accident Attorney at Chandler McNulty LLP
Have you been hurt in a truck accident? If so, contacting a truck accident lawyer at Chandler McNulty LLP is by far your best option for obtaining experienced help, personalized legal service, and justice you can count on. At Chandler McNulty LLP, our trusted lawyers and legal team is dedicated to:
Acquiring the justice our clients deserve throughout the entire course of their case or settlement process
Providing our clients with honest answers and realistic expectations
Crafting the most persuasive cases for our clients
Helping our clients bring their cases to successful resolutions.
To talk about your case and your best options for moving forward, call us at (713) 997-8310 or send us an email using the contact form on this page. From our offices based in Houston, our trusted lawyers provide superior legal representation to people throughout the state of Texas, as well as throughout the U.S.
_______________________________________________________
1"How Dangerous is Eating While Driving" published in Road King, July 2017.