Houston Truck Accident Attorney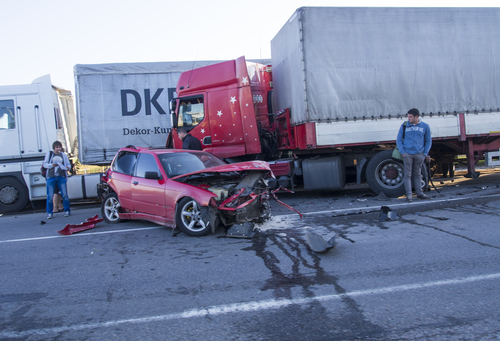 The commercial trucking industry is a backbone of the U.S. economy. Despite this critical role, heavy commercial trucks can present a significant risk to the driving public – especially in the presence of negligence. Often, the drive to promote profits over safety lies at the heart of this negligence, which can cause accidents, injuries and deaths.
When it does, the victims of trucking accidents can be entitled to compensation for their suffering, injuries and losses. Though compensation cannot undo the devastation left in the wake of a serious 18-wheeler wreck, it can give victims (including families whose loved ones suffered fatal injuries) the means to focus on treatment and putting their lives back together.
At Chandler McNulty, LLP, our Houston lawyers are dedicated to helping victims hold negligent parties accountable for the truck accidents and harm they have caused. After a horrific 18-wheeler wreck has left you reeling from injuries and losses, we want you to know that we are here for you, ready to:
Explain your legal options
Vigorously advocate your rights
Fight for the compensation you deserve
Partner with you in the pursuit of justice and recovery.
Have You or a Loved One Been Hurt in a Truck Accident? 
Call (713) 997-8310 or Email Our Firm
for a Free Consultation
We understand what it means to have everything on the line. That is why we are fully committed to limiting our case load and handling each case we do take on as if it were our own.
For us, this is not just business – it's personal. Empower yourself and strengthen your claim with our experience, skills and representation. It can make the difference in your claim and recovery.
Truck wrecks are commonly caused by some form of negligence, like the negligence of a truck driver, trucking companies, equipment manufacturers and/or others. Figuring out whether and how negligence contributed to an 18-wheeler wreck is crucial to:
Identifying all of the parties that are liable for that crash
Helping victims seek the full amount of compensation to which they are entitled.
To determine what exactly caused a wreck, evidence like police reports and accident scene photos can be helpful. So can a lawyer at Chandler McNulty, LLP.
Not all commercial truck drivers are as careful, attentive, sober or responsible as they should be when operating massive trucks. When truckers commit errors, misbehave or are otherwise negligent behind the wheel:
They pose a serious risk to everyone sharing the roads with them.
They can be accountable for the resulting accidents, injuries and deaths.
Drivers' logbooks, electronic onboard recorders (EOBRs) and police reports are some of the evidence that can be central to uncovering when (and how) trucker negligence plays a role in causing wrecks.
Visual, manual and cognitive distractions can prevent truck drivers from perceiving, interpreting and responding to the ever-changing traffic conditions. While that may be scary to consider, so too are the facts that:
Distracted driving among truckers has been on the rise in recent years, making it one of the most prominent and deadly forms of impaired driving among truckers.
Even after the distraction passes, it can take more than 20 seconds to refocus attention on the road and the work of driving.
Too often, this means that distracted truckers cause accidents, injuries and possibly deaths.
At least 1 in every 8 truck drivers who is involved in an accident was drowsy or fatigued when the crash occurred. While various factors can contribute to trucker fatigue (like after-work activities or insomnia), there are federal regulations in place to:
Limit the number of hours truckers can drive and be on-duty in a given shift or 7-day period
Try to prevent drowsy drivers from operating trucks.
Nevertheless, fatigued truckers still present a risk of the driving public and, all-too-often, cause accidents. When they do, negligent truckers (and possibly others) can be liable for compensating victims for their suffering, injuries and losses.
Those who are at fault for causing an 18-wheeler wreck will be the liable parties for that accident. In many cases:
The liable parties can include truck drivers, other motorists and/or trucking companies.
More than one party can be liable for a single crash.
Determining all liable parties for a truck accident is necessary to helping victims seek the full amount of compensation they are entitled to. It can also be essential to giving victims a sense of closure and justice.
Knowing what to do – and not do – in the aftermath of a truck wreck can help you take the right steps to protect your rights and a future truck crash claim. These tips can help you avoid making common mistakes that could sabotage your claim and recovery.
Whenever you are ready for answers regarding your possible claim, please don't hesitate to contact an experienced Houston truck accident lawyer at Chandler McNulty, LLP.
The cargo transported by commercial trucks must be loaded, balanced and secured in a specific manner, as set forth by federal cargo securement rules. These rules are aimed at minimizing the risks of shifting or falling cargo.
Not using the proper (or sufficient) securement devices and failing to inspect cargo during a haul are couple of ways that negligence can contribute to unsecured cargo. When it does, truck drivers and/or others can be liable for the accidents caused by moving or dropped cargo.
FMCSA trucking regulations set forth various requirements for motor carriers, commercial truck drivers and commercial trucks. These requirements cover various operations of the trucking industry, from screening and drug testing drivers to maintaining trucks, cargo weight limits and recordkeeping requirements.
When truck drivers, motor carriers or others fail to abide by any FMCSA trucking regulation:
Unsafe truckers and/or trucks can pose a threat to other motorists' safety.
Those who have violated these regulations can be held accountable for their noncompliance, as well as any accidents resulting from their violations.
A truck wreck attorney can be the most important ally and advocate you have when it is time to proceed with a case and seek the compensation you deserve. This is especially true when you partner with an experienced lawyer – like a Houston truck accident attorney at Chandler McNulty, LLP.
We have a deep understanding of how to successfully guide accident victims through the recovery process so they obtain the compensation and justice they deserve.
When Your Recovery & Future Are at Stake, You Can Rely on an Experienced Houston Truck Accident Lawyer at Chandler McNulty, LLP
A Houston truck accident lawyer at Chandler McNulty, LLP is ready to provide you with personal service, effective representation and superior results.
If you or someone you love has been hurt in any type of 18-wheeler wreck, call (713) 997-8310 or email our firm for a free consultation and important legal advice regarding your potential claim.
From offices in Houston, we are proud to represent accident victims and families from across the nation.